Nigerian rapper Olamide's single Rock has officially entered the Billboard top ten charts peaking at number 9 on the Top Triller Global list; jumping 8 spots from its position last week.
Olamide's Rock reached this feat on Billboard by being one of the most used songs on short video app Triller since its release. Other songs that make up the top 10 this week include; Justin Bieber's Peaches at no. 5, Nicki Minaj's Seeing Green featuring Lil Wayne and Drake at no. 6, and Cardi B's Up at no. 7.
Rock is the first single off the YBNL boss' forthcoming ninth studio album (eleventh overall project).
Check out the list below: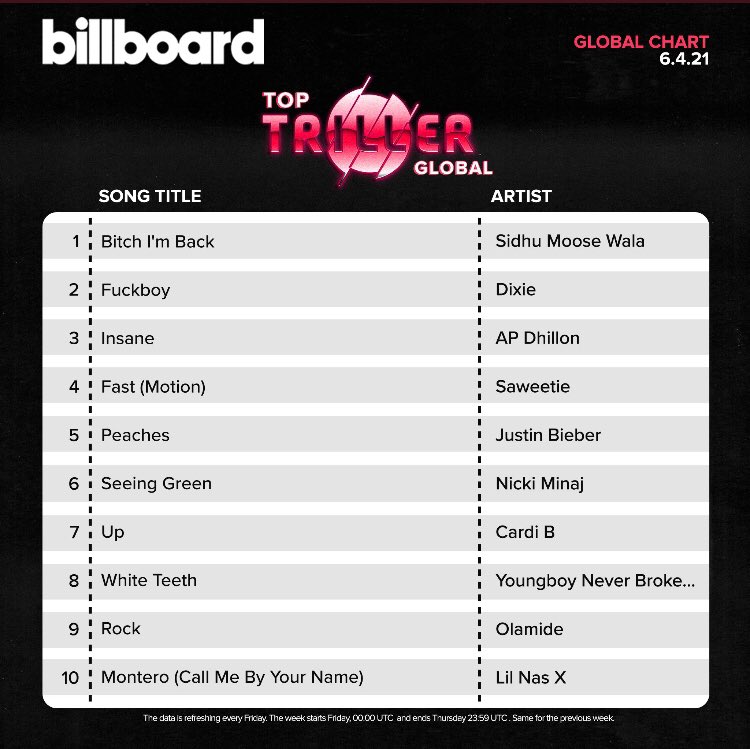 The YBNL boss had previously cracked the top 20 list back in 2014, 2016, twice in 2017, four times in 2018, and twice in 2020 with Infinity and Loading peaking at 14 and 13 respectively. In 2017, Olamide and Davido's Summer Body peaked at number 9 and WO!! peaked at number 4.
The year 2018 was also great for Olamide on Billboard as Kana featuring Wizkid peaked at number 3; along with 3 other tracks that made the top 20 list.
Watch the music video for Rock below:
The post Olamide's 'Rock' reaches number 9 on Billboard Triller chart appeared first on CmaTrends.